Gay Secrets of the…
Museum of Fine Arts Boston
(Two-hour tour)
---
Boston is known for its Puritanism, but somehow, the Museum of Fine Arts never got the memo.  In art circles, it is well known that Boston's MFA has the world's greatest collection of LGBT-themed Classical Greek and Roman art. It is less well known that the MFA's collections are extraordinarily rich in LGBT art of other cultures as well.
On this tour fun and informative 2 hour tour, we will discover:
the male/male couple that were ancient Athens' Uncle Sam
the god Priapus and what he did with his huge appendage
the sexiest Jesus of the Italian Renaissance
painter John Singer Sargent's secret obsession
and an intersex figure we bet you've never noticed in a famous impressionist canvas!
Come on our tour, and you will never see the MFA the same way again!
BOOK NOW
---
Advance purchase is required. Ticket price includes museum admission.  Discounts for seniors and students.
---
Save
Save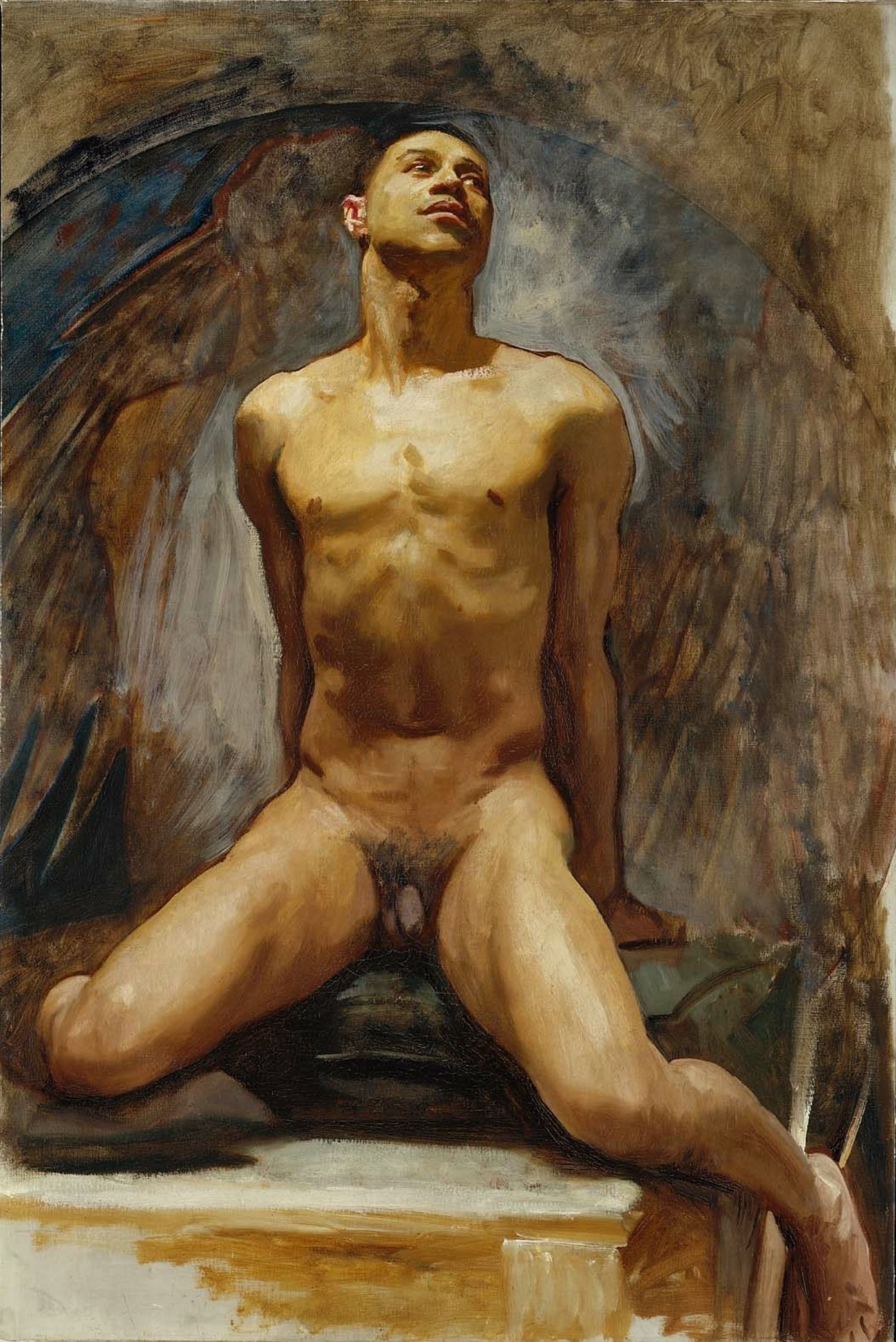 "Fun, Entertaining and Incredibly Informative"
Reviewed April 1, 2016
Went on a tour on Boston's MFA with Prof Lear. It was really wonderful. Prof Lear is a charming and unbelievably knowledgeable host. I really learned a lot while laughing, snickering and having a great time. Would hate to know the thoughts of Boston's high society passing by as Prof Lear offered his insights! He's a great story teller and kept the whole group interested for the entire time. I would highly recommend his tours and personally plan on going on some that he offers in other institutions.
— Provincetownwaterford
Reviewed March 17, 2016
Professor Andrew Lear led a group of us through the MFA pointing out and explaining works of art from ancient Greece up to the twentieth century that had significance in the history of homosexuality in society. It was informative and entertaining. I've been to the MFA many times, but this time I went to parts I'd never seen before and came away knowing more about art and history.
—  DJ Bauer
Harmodius and Aristogeiton, fragmentary oenochoe, about 400 BC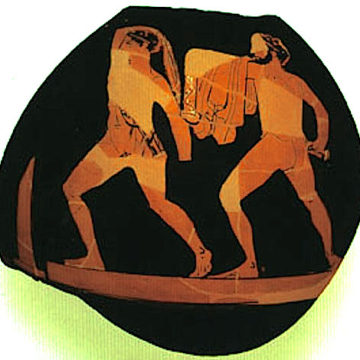 This fragment of an Athenian wine pitcher from about 400 BC is illustrated with 2 of Athens' greatest heroes:  Harmodius and Aristogeiton, a male-male couple whom the Athenians regarded as the founders of the democracy.  They assassinated the brother of Athens' tyrant (dictator) in 513 BC.  A double statue of them engaged in this heroic deed stood in the middle of the Agora through the rest of Antiquity, and this image of them was popular in Athens, where they served as models of citizenship and courage—and the association between these virtues and male-male love.
Pietà with Angels, Rosso Fiorentino, about 1524-1527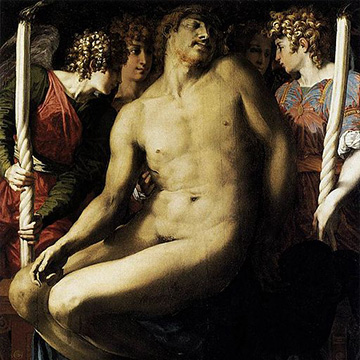 Highly eroticized portrayals of the dead Christ are typical of the Renaissance; this must be the acme of the genre.  It is in fact hard to believe that this Christ is intended as dead:  his sinuous posture does not resemble rigor mortis in any way.  Nor is his facial expression that of a dead man.  Instead, he seems to be in ecstasy as he lounges in the arms of particularly attractive angels.  His crossed legs—and the unusual sight of Christ's pubic hair—further sexualize the image and effeminize Christ.  The distinctly phallic candles held by the angels complete the painting's lurid effect.
Portrait of Thomas E. McKeller, John Singer Sargent, 1917-1920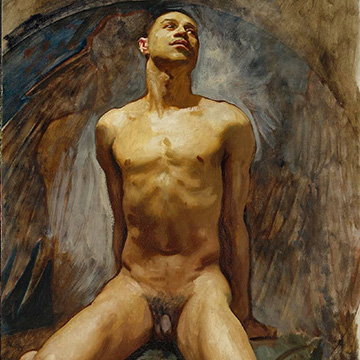 John Singer Sargent was an extremely discreet bachelor:  there are scarcely even rumors about his sex life.  As is so often the case with possibly gay figures in the 19th century, his private papers were destroyed.  Among the works found in his studio when he died, however, there was a notebook with many male nudes and this portrait of the favorite model of his later years, an Afro-American porter from an elegant hotel in Boston, named Thomas E. McKeller.  Were they lovers?  Or was Sargent at least in love with him?  We don't know, but in this painting, at the least, he has used the background to suggest that he has angel wings….
Shady Ladies of the
Metropolitan Museum
(Two-hour tour)
---

Courtesans, royal mistresses, scandalous women of every sort–the
Metropolitan Museum is crammed with them, from ancient Greek "hetaerae" to Sargent's Madame X and beyond.
These sexy–and often intelligent, educated, wealthy, even powerful–women were key members of political and cultural elites, fascinating patrons and artists alike, from Praxiteles to Titian to Manet. But who were they? What were their stories?
To find out, join us as we explore the lives and loves that lie behind the paintings.
---
Advance purchase is required. Ticket price includes museum admission.
---
Save