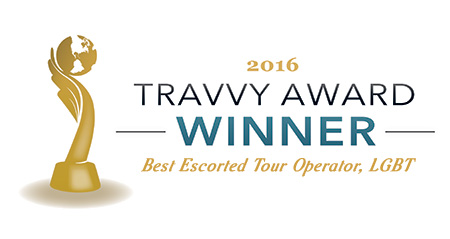 "Oscar Wilde Tours is an idea that is long overdue, and I can't imagine anyone better to launch it than Professor Andrew Lear.
His erudition as a scholar–as well as his considerable wit and charm–make him the perfect travel guide to gay history." —
Stephen Fry
Sappho and Socrates, Michelangelo and Shakespeare, Oscar Wilde and Gertrude Stein: we all know that many of the great figures in art and literature—as well as in other fields—have loved people of their own sex.
And while in some places (such as Classical Greece and Renaissance Florence) a culture of same-sex love has flourished, in others (such as Victorian England and America in the 1950s) it has been driven underground.
Up until recently, people curious about the places where this history occurred have had limited opportunity to visit them—but with the launch of Oscar Wilde Tours, that has now changed. Dedicated to connecting people to gay history, Oscar Wilde Tours is a gay travel tour company with a difference.
Our tours take you to the sites where gay history took place. You will visit some of the world's most enchanting cities and find yourself immersed in their beauty and charm. Yet unlike any other tours you have ever experienced, we do not only cover the basic historic and artistic sights.  We also show you history from a different perspective—a gay perspective, that dares to speak aloud the triumphs and tragedies of gay life and gay culture in times gone by.
Our tours are exclusive affairs, for the sophisticated traveler. They are designed for small groups of no more than 18 people, and they combine carefully planned and escorted travel with time for you to explore on your own—or with new friends you've made on the tour.
With our small groups, we are able to visit not only famous places, but also lesser-known sites not accessible to larger groups—in particular, places where famous gay people in history have lived and loved. And we are able to choose hotels and restaurants of truly special charm and quality.
Our tours are planned by eminent gay historian Professor Andrew Lear. Professor Lear is one of the world's foremost experts on sexuality in the ancient world; fluent in six languages, he is also a remarkably sophisticated traveler and has led and designed tours of Europe and America since 1976.  Drawing on all sides of his vast experience, Professor Lear makes each tour an unforgettable occasion.
In addition, we will enjoy the expertise of local guides in each city, carefully selected for their professionalism and extensive knowledge of gay issues; and we will round out our experience with a range of exciting cultural activities—from lectures by distinguished gay writers and academics, to evenings at the theater and culinary tastings of local artisanal products.
An Oscar Wilde tour is always a truly memorable experience. We look forward to creating wonderful memories for you.
Book your Oscar Wilde Tour Now
To book your Italy tour, please contact
Would you like updates on future tours?
Please submit your email and your name in the form below, and we will be in touch. (Under no circumstances will we ever share your email.)