"I recently discovered that the city's gay heritage stretches back, improbably, to the 1880s, thanks to Professor Andrew Lear, whose encyclopedic knowledge of the Village's pink past lend gravitas to his role as president of Oscar Wilde Tours."
— Edge Media Network, June 2015
Discover the gay history of
New York
---
Everyone knows that gay liberation began on a summer night in June 1969, with the Stonewall riots in Greenwich Village. But who knows that Mae West was arrested in Manhattan for producing a pro-gay-rights play in 1926? Or that Walt Whitman read his homoerotic poems to friends at a bar on Broadway?
New York is bursting with gay lore and gay history—and Oscar Wilde Tours is bringing it all out of the closet.
From Herman Melville to Leonard Bernstein, from Edna St. Vincent Millay to Andy Warhol, and from James Baldwin to Rudi Nureyev, New York has been home to an astonishing array of gay artists and celebrities—men and women who have shaped American culture and made gay history.
If you want to discover this history in depth, Oscar Wilde Tours is your destination. We are proud to offer the first tours covering the entire gay history of New York—plus a tour of homoerotic art in the Metropolitan Museum.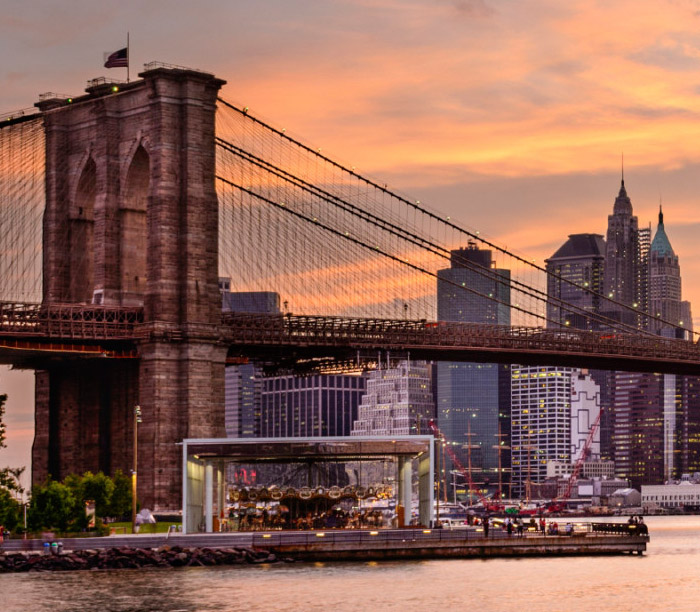 Greenwich Village
Walking Tour
(Two-hour walking tour)
On this tour, we explore the heart of the West Village, where the gay liberation movement took off, with the Stonewall riots in 1969 and the first Gay Pride parade a year later.
But the Village's gay history goes back a century before that, to the time of Walt Whitman. Since that time, like Paris' Left Bank, the Village has been the center of all of the city's many countercultures and artistic movements, from the creators of Off Broadway to the Beats and the Factory—and of course the gay liberation movement.  During this tour, we see the places where Villagers have lived and loved, including the sites of the drag shows and gay bars which have dotted the Village for 150 years—and of course the Stonewall Inn, where our tour starts and ends.
The list of LGBT greats we discover reads like a history of American culture, from Herman Melville to Eleanor Roosevelt to James Baldwin to Harvey Fierstein.
---
Advance purchase is required.  Discounts available for seniors and students.
---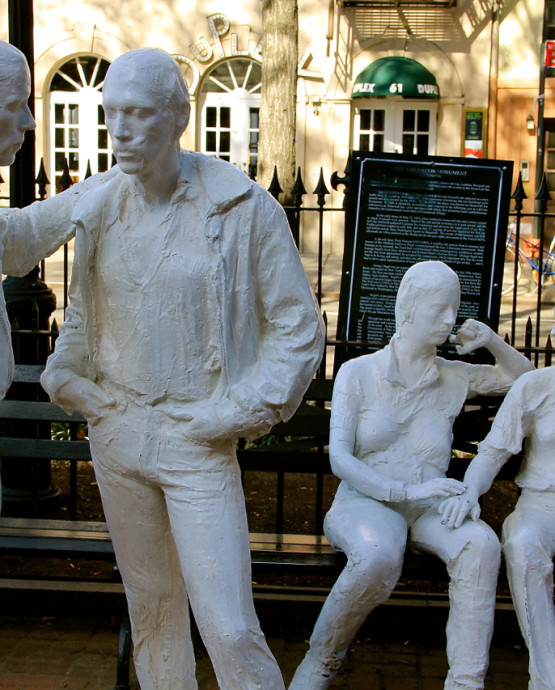 Tour of the
Gay City
(4 hour bus and walking tour)
Our comprehensive tour takes you to a series of neighborhoods that have deserved the name 'gayborhood' at various times. We cover the city from Union Square and Chelsea to Harlem, the Museum Mile and Brooklyn Heights—as well as everything in between.
On the way we see monuments to the gay past such as Andy Warhol's second Factory, the fabled Hotel Chelsea, the theater that was Studio 54, Harlem's Schomburg Center, and the Waldorf-Astoria (where Cole Porter's piano still graces the lobby). And we discover the lives and contributions of such great LGBT New Yorkers as Leonard Bernstein, Rudi Nureyev, Bessie Smith, Langston Hughes, and Truman Capote—as well as such actively gay-friendly people as Mae West and Dorothy Parker.
---
Advance purchase necessary. Discounts available to seniors and students.
---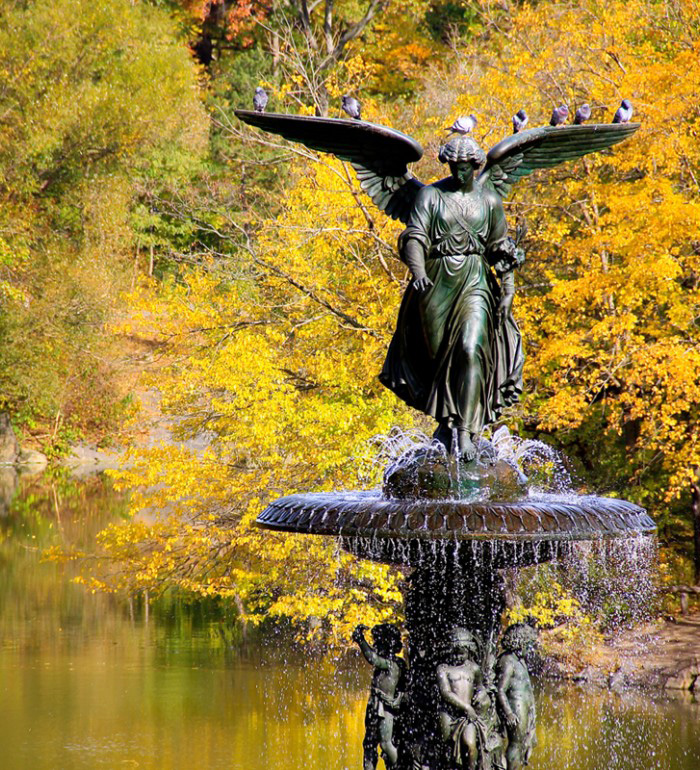 East Village
Walking Tour
(2 hour walking tour)
Come experience the East Village's fascinating gay history! Since the 1950s, the gentrification of Greenwich Village has displaced the area's cultural energy eastwards—creating what gradually became known as the East Village.
This is where the Beats lived, where Punk was born, and where the musical Rent is set, with its world of impoverished young artists struggling in the shadow of AIDS. And of course, as in every place where the arts have thrived, the East Village has a dense gay history.
It has been home to such famous gay residents as W. H. Auden, Allen Ginsberg, Quentin Crisp and Jean-Michel Basquiat, as well as famous gay bars like Cock, and Tompkins Square Park—where Wigstock was founded in 1984.
On our tour, we see all of these places and more, including the disco where the 1920s' famous "pansy balls" took place, and the place where Walt Whitman first read his "Calamus" poems to his Bohemian friends.
Advance purchase necessary. Discounts available to seniors and students.
---