"Thanks to the Met's extensive collection, this tour is a whirlwind, and thanks to Lear's boundless knowledge and excitement, it's a true treasure."
— Out Magazine, March 2015
Gay Secrets of the
Metropolitan Museum
(Two-hour tour)
Join us for an entirely new concept: an exploration of homoerotic art in the Metropolitan Museum. On this tour, we discover some of the Met's queer treasures, from ancient Greek nudes and erotic vase-painting (on which Professor Lear is a world expert) to homoerotic paintings from the Renaissance—as well as a panoply of modern works, some by LGBT artists, some portraying LGBT people and some expressing same-sex desire.
We learn about famous pieces—from Michelangelo's Cupid to Picasso's portrait of Gertrude Stein—but in addition we explore lesser-known artists and works that are often ignored.
And we delve into the fascinating forms of homosexuality in other cultures, such as same-sex initiation rites in New Guinea, represented in the Met's Oceania collection. It's all part of the hidden gay story in one of the great museums of the world, which you'll never look at the same way again.
---
***These tours are currently offered through Out Professionals (http://www.outprofessionals.org/events/upcoming/) and TheMenEvent (http://www.themenevent.com/gay-walking-tours/)***
Advance purchase is required. Ticket price includes museum admission. Discounts available for seniors, students, and Metropolitan Museum members.
---
Save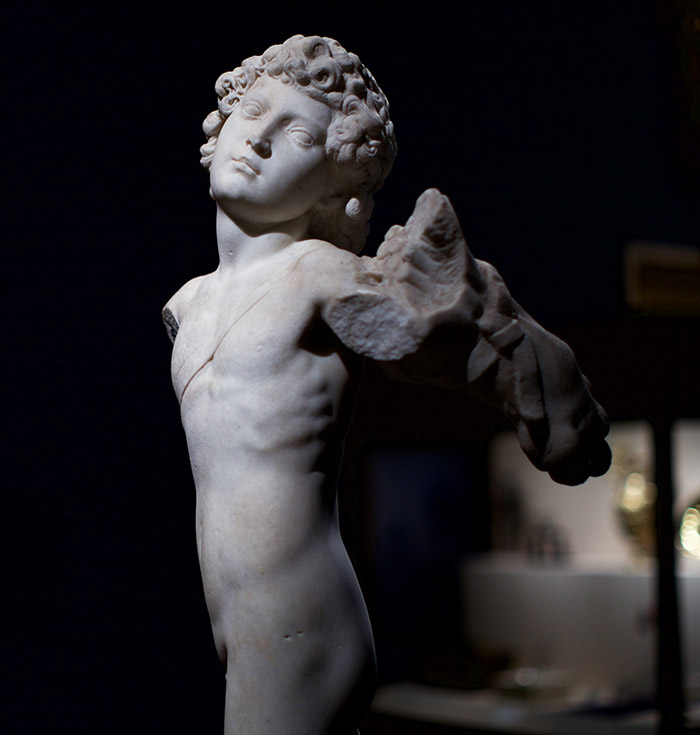 Bust of Antinous, about 130 AD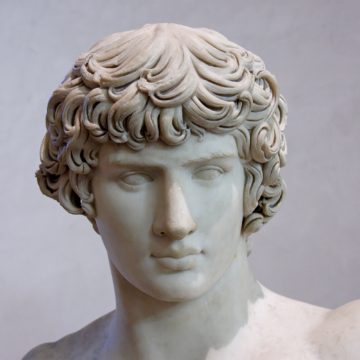 Antinous was the Emperor Hadrian's kept boy—and his great love.  We don't know much about his life or their relationship, except that he was a strikingly good-looking Greek boy from modern-day Turkey and drowned in the Nile at age 19.  The most interesting thing, though, is what happened next:  Hadrian declared him a god.
And this must have been popular, since there are more than 100 statues and busts of him, all presumably from temples and shrines.  In fact, he is one of the most represented Classical people, along with Julius and Augustus Caesar and Hadrian himself.
Musicians, Caravaggio, about 1595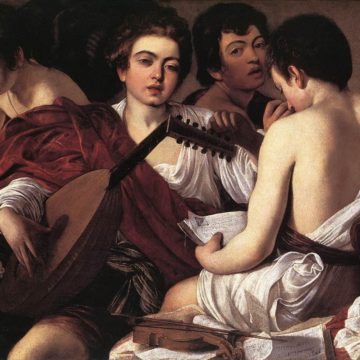 Caravaggio responds to the tradition of representing the art of music as a lute-playing woman with this group of louche boys.  Their Classical clothing and partial nudity eroticize them, as does the presence of a Cupid (of doubtful gender) behind them.  Above all, the lute-player himself is markedly sexualized.  Like the Cupid he is effeminate:  it seems possible that his eyebrows are plucked, and he may be wearing make-up.  His unusual facial expression is also noteworthy:  both his eyes and mouth seem to belong in the bedroom more than the concert hall…
The Sofa, Henri de Toulouse-Lautrec, 1895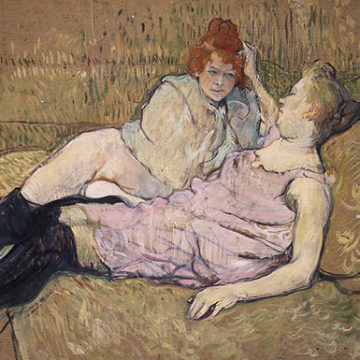 Toulouse-Lautrec was fascinated by the Lesbian relations between the sex-workers in the bordellos where he painted and at times lived.  His interest does not seem to be voyeuristic but instead to derive from a sense of identification with the prostitutes, whom he saw as outcasts like himself.  Thus in this scene, one of the women is nude from the waist down, clearly indicating an intimate relationship with the other, but there is nothing erotic about the painting.  Instead, the theme seems to be the intimacy between the women—a subject as rare in art as are their expressions of fatigue, boredom, cynicism….
Gay Secrets of the…
Museum of Fine Arts Boston
(Two-hour tour)
---

Boston is known for its Puritanism, but somehow, the Museum of Fine Arts never got the memo.  In art circles, it is well known that Boston's MFA has the world's greatest collection of LGBT-themed Classical Greek and Roman art. It is less well known that the MFA's collections are extraordinarily rich in LGBT art of other cultures as well.
On this tour fun and informative 2 hour tour, we will discover:
the male/male couple that were ancient Athens' Uncle Sam
the god Priapus and what he did with his huge appendage
the sexiest Jesus of the Italian Renaissance
painter John Singer Sargent's secret obsession
and an intersex figure we bet you've never noticed in a famous impressionist canvas!
Come on our tour, and you will never see the MFA the same way again!
---
Advance purchase is required. Ticket price includes museum admission.
---
Save
Shady Ladies of the
Metropolitan Museum
(Two-hour tour)
---

Courtesans, royal mistresses, scandalous women of every sort–the
Metropolitan Museum is crammed with them, from ancient Greek "hetaerae" to Sargent's Madame X and beyond.
These sexy–and often intelligent, educated, wealthy, even powerful–women were key members of political and cultural elites, fascinating patrons and artists alike, from Praxiteles to Titian to Manet. But who were they? What were their stories?
To find out, join us as we explore the lives and loves that lie behind the paintings.
---
Advance purchase is required. Ticket price includes museum admission.
---
Save